About the Lido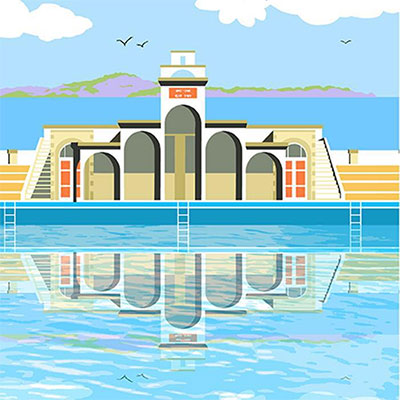 Grange Lido is an iconic Art Deco gem and it is the only surviving seaside lido in the North West and one of just 5 in England.
Dating from 1932, the Lido is an important heritage asset and, thanks to the efforts of Save Grange Lido, is now grade II listed.
It is much loved and prized by local people and folk further afield who overwhelmingly want to see it fully restored with a swimming pool.
The Lido has now been closed for a generation, and is a significant drain on local taxpayers. In recent years there has been a huge renaissance in lidos and outdoor swimming nationally, and Grange finds itself in the privileged position to have a magnificent Art Deco pool.
It is threatened with being filled in in 2019 but such a rare and exciting lido really must not be lost.
Save Grange Lido are working hard to ensure the Lido is fully restored as a community swimming facility and regional tourist attraction. This is the only sensible option; others would permanently and unnecessary damage the grade II listed structures, and be a waste of local taxpayers money.
At a time when health, wellness and community engagement are in the fore, an outdoor pool would be a valuable asset, fun for our children and would strengthen the seaside appeal of Grange
Local swimming clubs, schools and swimming organisations strongly support the plan for a restored 50m long-course swimming pool which would be the only one in Cumbria and invaluable as a safe, accessible place to train and learn to swim.
Grange Lido is very fortunate to have a good range of useful buildings which present excellent opportunities to generate income to cover the running costs of the whole facility. The imaginative use of these buildings is the key to the successful redevelopment and future of the Lido.
The Lido would make a perfect day out for people from a large catchment area and bring important economic benefits to local businesses.
About Save Grange Lido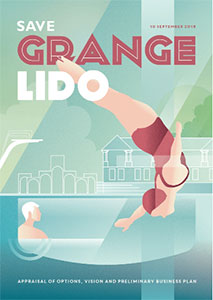 Save Grange Lido was established in 2011. It came out of a public reaction to what many people felt was a short-sighted and destructive plan to demolish the buildings and fill the pool basin.
We successfully appealed to Historic England to get the Lido grade II listed in recognition of its historic importance as a rare and intact example of its type.
The group has grown year upon year, and now comprises people from a range of different backgrounds and specialisms. It includes experts in leisure management, lido operation, business, restoration of historic buildings, tourism, marketing, planning, law, IT, journalism, history and architecture as well as concerned mums, dads and grandparents.
Everybody shares the vision of seeing Grange Lido restored to its former glory and will not rest until this goal is achieved.
Please join us and lend your support by donating, signing our online petition, and subscribing to our e-newsletter.