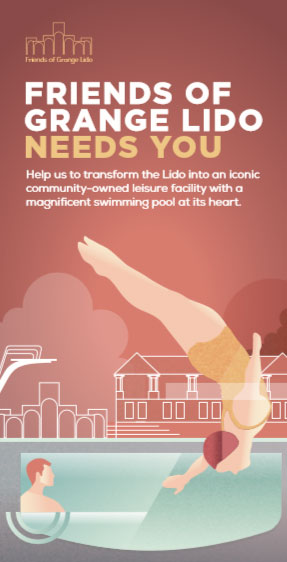 Become a Friend of Grange Lido
The Friends of Grange Lido are helping transform this derelict gem into a community-owned leisure facility with a magnificent pool at its heart.
A strong Friends Group can help us gain major funding too, by demonstrating to funders the serious support our project enjoys locally and in the wider community.
BENEFITS OF BECOMING A FRIEND
– Contribute funds to make our plans a reality
– Demonstrate support for the restoration of a rare Art Deco lido
– Become a member of a vibrant community with regular events
YOU WILL RECEIVE
– A set of Grange Lido postcards
– A Save Grange Lido car sticker
– A subscription to our email newsletter
Please join if you can.  Your contribution really counts.
The cost is £25 per year. If it works for you to pay more, that would be much appreciated – just enter a different amount when you sign up. Or if you prefer to pay monthly, a minimum £2.50 a month, that is fine too.
If you can gift aid your payments, their value increases by 25%, so £25 is worth £31.25 to us.
Payment is taken by direct debit, and you can cancel at any time by informing your bank directly. Please also let us know by emailing friends@savegrangelido.co.uk.
You will be asked to select a payment date of the 1st or the 15th of the month. Direct debit instructions take 5 working days to process, so your first payment may be taken this month or next month.
Once your payment is processed, you will receive a set of beautiful Lido postcards and a car sticker in the post, regular news by email, and our sincere thanks for being with us in this stage of the journey.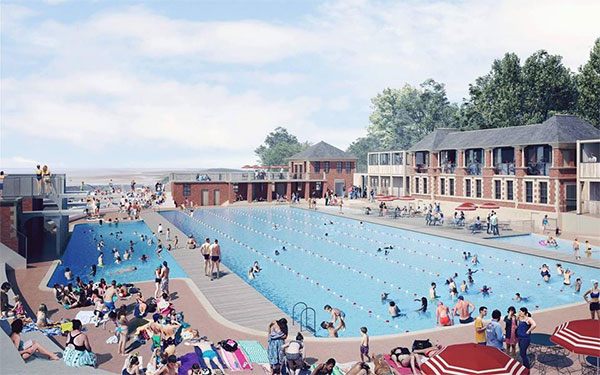 Please take the time to read our Privacy Policy (https://www.savegrangelido.co.uk/privacy-policy/) which explains in more detail what data we collect and why, how we use it and other information relevant to the privacy of your data. You can change your mind about hearing from us at any time using the unsubscribe link in the footer of emails we send you.