One of the conditions set by South Lakeland District Council for their support for our work was that our business case was viable and sustainable. An independent assessment concluded in March 2020 that it was, but then the pandemic intervened.
We've now updated the approved plan and you can click the image or click here to read online or click here to download the revised plan..
Save Grange Lido is working with South Lakes District Council (SLDC) with the aim of restoring the Lido in two phases. Phase I will be undertaken by SLDC who will restore the buildings and structures. This phase has council capital expenditure approval of c£2.8 million and will begin in early 2022.
Phase II will be by Save Grange Lido and will include the restoration of the iconic 50m pool, fit out of changing rooms and extensions to the central pavilion to create space for lido administration and kitchens for the café-restaurant. This work is likely to cost c£4.5 million and SGL have an experienced professional team including architects, quantity surveyors, fundraisers, heritage consultants, engineers etc working on the project.
The plans produced for SGL by Studio Octopi are currently to RIBA Stage II and are below. Studio Octopi are currently working on the RIBA III plans and their work has been funded by generous donations from our Friends and the public plus two grants from the Architectural Heritage Fund.
Click on a plan below to view larger version.
The plans include the restoration of the 50m six lane pool which will be the only 50m pool in Cumbria and for a considerable distance. We are exploring heating the pool using ground source heat pumps, and our plans also include the restoration of the original paddling pool. The pool complex will also include a community space, a changing places facility, heritage story-telling, a café-restaurant, gym and shop.
The Architects, Studio Octopi, were chosen because they have a wealth of experience in swimming pool design. They are currently working on a floating swimming pool for the River Thames and restoring a lost Lido in south east London.
How the newly restored Lido could look: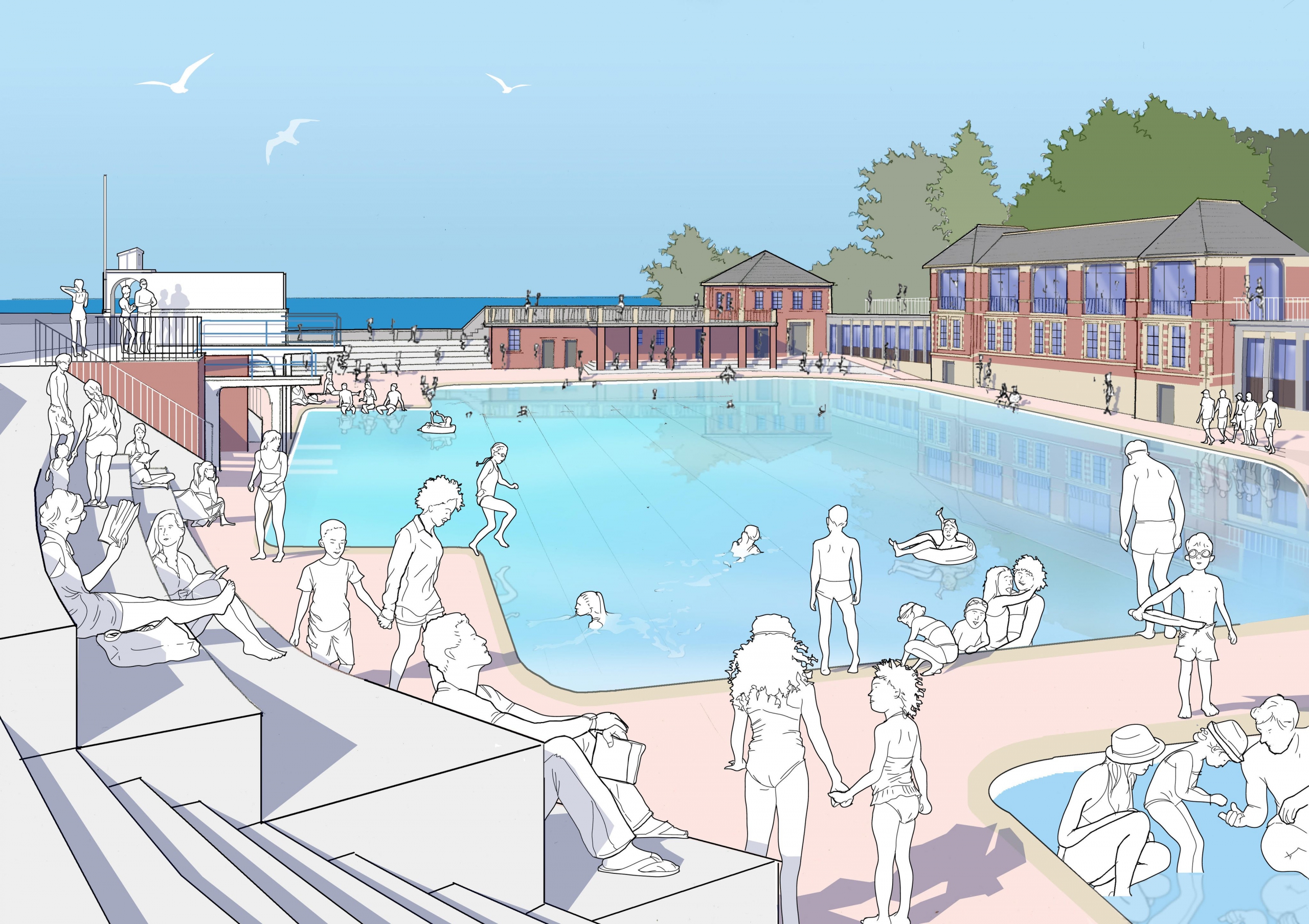 The image above is a representation of how the restored lido might look, but we still have more work to do on the final design and in particular, how the new wing buildings for lido administration and kitchens will look.