Happy New Year from Save Grange Lido!
And welcome to the first of our newsletters for 2019!
I'm sure, like me, you are fed up of the sight of turkey and after indulging in way too many Quality Streets, were wishing there was somewhere to burn off all that Christmas excess. A nice swim, in a 50-metre outdoor pool overlooking the stunning Morecambe Bay would be just the ticket. Well it does feel like that dream is getting a little closer to reality.
The Save Grange Lido committee have been busier than Santa's elves in the run up to Christmas. If I was to update you on everything we'd make War and Peace look like it was lacking detail.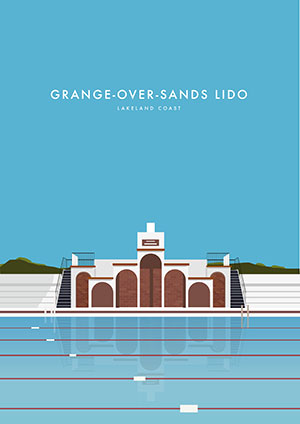 Thank you to everyone who indulged in a spot of Christmas shopping in our online shop, Save Grange Lido T-shirts and pinnies are the envy of fashionistas everywhere, they'd kill for these on the catwalks in Paris or Milan!
If you like to shop till you drop then check out the shop, we have everything from dog coats to mugs and phone covers. You can also treat yourself from our range of stunningly designed posters showing our art deco gem at its most stylish.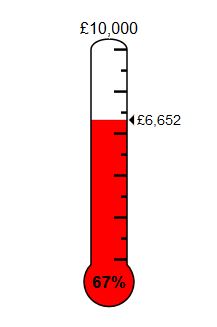 We must say a huge thank you too if you donated to our crowd funding campaign. We are raising money for the first stage of our vision.
Very soon we will reveal our artist's impression for the revived Lido, prepare to be impressed.
If you would like to donate, please click here.
We have also received our first grant. The Architectural Heritage Fund has awarded Save Grange Lido £6265 match funding towards architect designs for the site and funding towards official incorporation of the group. This is a fantastic start to our campaign and allows us to make real progress.
Incorporation of the group will take place in January. Save Grange Lido will become a Community Benefit Society with charitable status, this will allow us to get gift aid, apply for serious grants, and potentially run the Lido.
We've also received a £500 donation from Troutbeck Bridge Amateur Swimming Club and an award of £150 from the Furness Building Society Community fund. Many businesses have been helping too, from 10% donations from dog grooming to the contents of the Commodore's copper pot.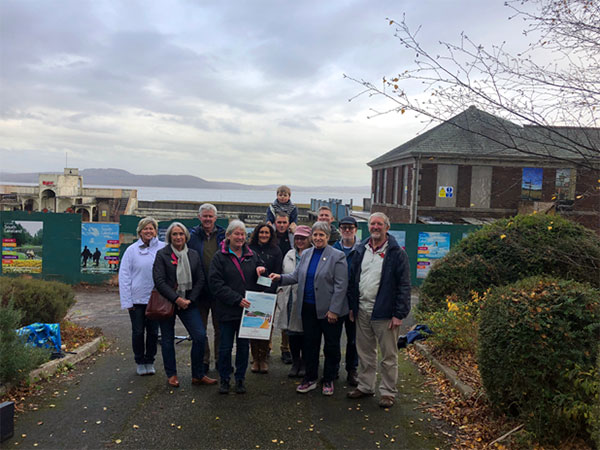 ---
The big news from the campaign is the full council meeting which took place in Kendal on the 18th December. We packed the public gallery in Kendal Town Hall and filled the place with cheering and stomping!
To qualify for the council debate we needed over one thousand local names on our petition. We managed over 3000 signatures on the paper petition and the online version attracted over 14,000.
At the debate our Chairman Phil Bradby was given 5 minutes to persuade councillors that the pool needs to be retained in any future development plans at the site. Local swimming expert Terry Lambert also gave a speech in support of the pool highlighting how competitive swimmers in Cumbria face a huge disadvantage without the provision of a 50-metre pool in the county.
A lively debate ensured. Several councillors made impassioned speeches in our favour. There was opposition and caution too. The Liberal Democrats are in overall control of the council and following the debate they have agreed to work with us on our business plan as long as we satisfy three conditions:
We have to show that we can raise the money to restore the pool.
We must be able to reassure SLDC that the long term risk to them will be reduced or eliminated
We must secure the support of Grange residents and Grange Town Council.
We will be working hard to meet all of these criteria early in the new year ahead of the Council's cabinet meeting. This takes place in January. This is a really important meeting as Councillors will be voting on the budget to restore the Lido and infilling the pool. We must thank SLDC for allowing us to speak at the meeting to present our case to retain the pool.
Press Coverage
Our campaign is certainly getting noticed. We've been in the Westmorland Gazette, The Mail, Lancashire Life, BBC news, Radio Cumbria, Heart and Smooth Radio and we will be part of a new Radio 4 documentary in the spring. Also, the Lido will star in a new ITV drama called 'The Bay' which airs early in the new year.
Celebrity Support
We've had some celebrity supporters too. Dave Myers, one half of TV's Hairy Bikers, has recorded a video which you can see on our Facebook page, reminiscing about catching the train from Barrow for a swim in the Lido in the summer holidays. Adam Rickitt, star of Coronation Street and now Hollyoaks has tweeted his support and journalist from the Spectator, Isabell Hardman, recently completed a marathon in a 'Save Grange Lido' T-shirt.
As I say there has been loads more going on behind the scenes and it looks as if January is going to be one of our busiest and most important months yet. Keep an eye out on the Facebook, Twitter and Instagram for all of our latest news.
On behalf of the Save Grange Lido committee can I say a huge thank you for all your support in 2018 and we look forward to making more huge progress in 2019.
Happy New Year to all of our supporters.